Workshop explores how to promote women CEOs in cooperatives
04 May 2018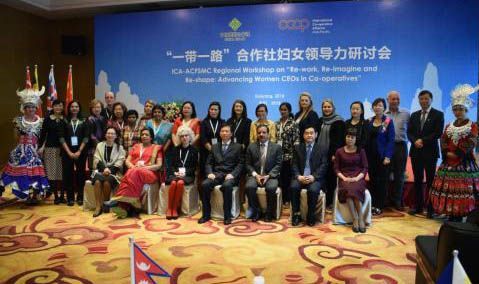 The International Cooperative Alliance Asia-Pacific (ICA AP) office hosted a workshop on enabling women in cooperatives to advance to senior executive roles called "Re- Work, Re- Imagine and Re- Shape: Advancing Women CEOs in Co-operatives".
One of the keynote speakers was Alexandra Wilson from Canada, who is one of the seven female directors on the International Cooperative Alliance's global board.
The workshop reflected the ICA AP's long-standing interest in the role and status of women in cooperatives. Ms Wilson shared various short videos featuring women leaders from ghe mutual insurer, The Co-operators.
The discussion revealed that the obstacles to women achieving parity in senior management are the same in Canada as in Asia where, increasingly, women are highly educated. Participants agreed that until parity is achieved, targets and gender equality policies that address systemic barriers would be needed. Studies suggest that women are more likely to be represented in senior executive roles if there is good representation of women on boards of directors. Furthermore, in every country where the problem has been studied, the higher the level in the management pyramid, the lower the percentage of women in it.
ICA-AP will be using the ideas generated by the workshop to develop a four-year action plan to advance the issue of women in management among its members.
"In short, it is important to women and girls in all social strata that women have access to and occupy positions of authority on an equal footing with men, including at the head of business organisations, and, of course, cooperatives," said Ms.Wilson, "not only because we may exercise that power in different ways and possibly to better ends, but because it will fundamentally change everyone's perception - men's and women's - of who women and girls are, of what we are worth, of how we should be treated and of what we can aspire to be."
The Workshop was jointly held by the ICA-AP Committee on Women, ICA-EU Partnership on Co-operatives in Development and the All-China Federation of Supply and Marketing Co-operatives (ACFSMC) from April 17 to 19, 2018 in Guiyang (Guizhou Province), China.
Read more information on the ICA-AP website here